Congratulations to the winner of Round 3 Travel Photography Roulette!
Caption: The murals of Derry and Belfast help tell the history of the troubles in Northern Ireland. If you're headed to Dublin, take a couple days and get up north to see them.
How could we not award the winner of this round to such a powerful image portrayed in community mural? It hits the exact spot of why Scott and I believe Street Art is a powerful tool in todays society.
Check out the next round of Travel Photography Roulette being hosted at this weeks winners corner of the web: Flashpacker HQ. We look forward to see what Travis selects for the next rounds theme! Congrats again Travis!!
Thanks to everyone who participated. We got some great submissions which made it very hard for us to choose a winner. Also a big thanks to everyone who helped promote the game on twitter (#photoroulette). Keep it up! You are all awesome!!
~~~~~~~~~~~~~~~~~~~~~~~~~~~
Scott and I were the round 2 winners of the great new game, Travel Photography Roulette! The game was created by Jeremy at Living The Dream and I believe will be a great addition to our wonderful travel blog community.
If you haven't already guessed… Scott and I love Street Art in all shapes and forms. Which brings us to this rounds term. We would love to see what kind of Street Art out there moved you enough to take a photo.

Please remember Street Art is not just limited to graffiti! The definition of street art is any type of art displayed in a public place that is not sanctioned by government sponsorships and is something you can view for free. Community supported mural projects, yarn bombing, stickers, stencils, graffiti, sculptures, flash mobs, street performers, sidewalk chalk-drawings, placed rocks, light instalments, the list can go on and on and on. Anything an individual (or a even a group of individuals) has done in a creative manner on the streets to add color, inspire someone, make a statement, leave their mark, or just because. Get it? Still unsure? Read this wiki on Street Art. Now onto the game!
The rules of the game are simple. The hosting blogger is the chosen winner of the previous week's (7 days) game. The new host chooses a generic keyword or phrase that other bloggers submit photos to during the course of the week. Phrases can be as generic as 'signs' all the way to abstract thoughts like 'religion' and everything in between.
At the end of the week, the hosting blogger chooses their favorite photo that fits the chosen phrase and moves it to the top of the post as the winning entry with direction to the new host's site for the next round. Readers can attempt to sway the author into picking a certain photo via comments but the author can ignore comments as they see fit. The game is repeated with the winner hosting the following week's game and choosing a phrase for new photo submissions.
The following is a list of the previously played rounds of the game and the hosting blogger for each. This list also doubles as a winner's table as each topic host won the preceding round! Click the host's link to go directly to that entry to see some stunning photographs from the chosen term/phrase!
For Round 3, I have chosen the term: Street Art, and my photo submission is below.  Those interested in playing please provide a hyperlink to a photo you'd like to submit and it will get hosted on this page.  When submitting an image, please provide a brief description and location of where it was taken for captioning.   On December 7th I will pick a winner and that blogger can start the next round.
"Apartment building in a used to be bad end of Berlin covered in up-close faces by a group of local graffiti artists. After completion all the violence and crime diminished and the inhabitants once again live normal happy lives."
So, who is ready to show off their photography skills?  The best Street Art wins the week and bragging rights.
Extra Criteria to Keep in Mind When Submitting a Photo:

1) One submission per Blog (so sites that have 2+ authors only get one entry).
2) No photoshopping allowed unless specifically called for!  Cropping and correction for red-eye or camera flaws are ok, however.
3) Abstract submissions welcomed as long as it fits within the interpretation of the chosen phrase.  Remember, the hosting blogger chooses the winner, so if they cannot understand the submission, you might not win!
4) Keep phrases general so that all bloggers can participate.  Specific items like "Eiffel Tower" should be avoided but rather made open-ended like "monuments." For variety, it is ok to say focused things such as "monuments at night" in which most of us have pictures of.
6) Abstract thoughts are appreciated, but keep it within the realm that all readers will understand.  No "Kafka-esque", but "Overlooking Creation" is able to be interpreted by all.
7. No obscene pictures or phrases allowed.  Suggestive phrases and photography can be accepted, but please keep it within reason.
8. After a sufficient period of time, phrases can be reused, however new photos must be submitted.  Keep the ideas and photos fresh!
9) Pictures from your entire portfolio are fair to submit.  You do not have to take the photo within the week of the contest period to submit it.
10) Most importantly, ALL PHOTOS MUST BE YOUR OWN.
Entries for the 3rd round are the following:

Erica from Over Yonderlust
"Billie Holiday stencil, Austin, Texas"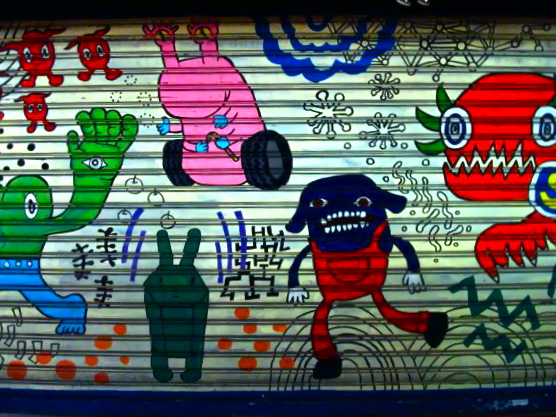 Lindsay from The Traveller World Guide
"All the way from Tokyo, Japan! Eat it!"
Jeremy from Living the Dream
"Mariachi Band Playing in Cozumel, Mexico (2003)"
Rebecca from Travels at 88mph
"Rock displays in Stanley Park, Vancouver, BC"
Jamie from Breakaway Backpacker
"This was taken off Venice Beach, California."
Nico from 10 Times One
"Paris Street Art. Found in the Marais, 2010"
Stephen from Bohemian Traveler
"This one gets deep. From Cartagena, Colombia"
Anthony from Motojournalism
"Images from the past blend into footsteps of the present.
I saw this mural on my way south through Nicaragua. It shows the overthrow of the Somoza dictatorship, with kids playing futbol in front. I've cropped it so it's difficult to tell where the mural ends and reality begins."
Dustin from Skinny Backpacker
"Fear over immigration, shot in Helsinki, Finland."
Travis from Flashpacker HQ
"The murals of Derry and Belfast help tell the history of the troubles in Northern Ireland. If you're headed to Dublin, take a couple days and get up north to see them."
Johnny from Johnny Vagabond
"Here's some randomly-generated 'art' I found in Hanoi"
Please share this post each week to drive up views and increase submissions of these wonderful pictures to make the contest more interesting!  Good luck!
« «